Crafts, Cakes, Preserves, Ready-meals, Fruit and Veg.
Friendly, welcoming - a morning out with your friends -Wythall and HollywoodCountry Markets is a place where you can meet friends (make friends). Have an inexpensive cup of coffee or tea with home-made cakes and cookies and more. Treat yourself to something special from the market -or treat your friends. We are a great place to buy unique, thoughtful gifts.
We also have a digital watch service and a free service cleaning up and tightening spectacles.
We are in the scout hut in Wythall Park, Silver Street, B47 6LZ every Saturday morning from 10 am until noon.
What's happening now (Twitter feed)?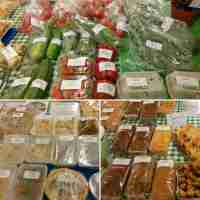 Our market, local artisans and more with the HUB